Your roof is an important part of your house. It normally endures all weather conditions and protects your house from structural damage and so on. The gutter is the part of a building's roofing structure that is responsible for collecting rain water. This is why homeowners install gutters. Without gutters, homes and buildings suffer unnecessary damage over time as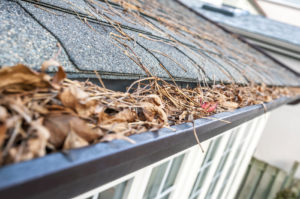 rainwater can cause structural weakness.
Gutter cleaning is one way to help gutters protect your property from water damage. Gutters are prone to getting clogged when dirt is washed into the gutters whenever it rains. Some small bits of cement and sand falling off the building's roofs can also end up in your gutters and clog them as well. There are just some of the reasons why you should clean your gutters. They include:
1. Prevent damage of the building
It is important that you clean your gutters regularly so that you can remove obstacles that can affect the flow of water. You will realize that if rainwater finds an obstacle in its path, it tends to overflow thereby ruining the walls of the building. This can be detrimental. This is the reason why you should clean it regularly.
2. Increases the life of your home or building

Overflows can actually damage the walls of the building. This can make your walls get weaker with time. However, if you clean your gutters well, your building will not be affected by rainwater.
3. Prevent damage of the property inside the building
Water can actually damage your valuable possessions inside your home or building. It can interfere with the electrical circuits and wiring which may lead to fire. Once again, you can mitigate this by cleaning your gutters as often as possible.
When do you need gutter cleaning? The following are situations when you need to clean your gutters:
· When your gutters are clogged with debris and other materials such as leaves
· When you notice that your wall is getting damaged by rainwater
· When you notice outside water leakages entering your house
· When you notice that the foundation of your house is showing signs of weakness
Those are some of the reasons why you need to clean your gutters. If you notice any of the above mentioned situations, clean your gutters as soon as possible. Clean your gutters now and you will enjoy the results.
Metro Areas We Service:
Houston TX, San Antonio TX, Austin TX
77001, 77204, 77206, 77207, 77208, 77210, 77212, 77213, 77215, 77216, 77217, 77218, 77219, 77220, 77221, 77222, 77223, 77224, 77225, 77226, 77227, 77228, 77229, 77230, 77231, 77233, 77234, 77235, 77236, 77237, 77238, 77240, 77241, 77242, 77243, 77244, 77245, 77248, 77249, 77251, 77252, 77253, 77254, 77255, 77256, 77257, 77258, 77259, 77261, 77262, 77263, 77265, 77266, 77267, 77268, 77269, 77270, 77271, 77272, 77273, 77274, 77275, 77277, 77279, 77280, 77282, 77284, 77287, 77288, 77289, 77290, 77291, 77292, 77293, 77297, 77299, 77052, 77203, 77202, 77201, 77010, 77002, 77003, 77009, 77006, 77004, 77007, 77020, 77019, 77026, 77011, 77098, 77008, 77023, 77030, 77005 ,77022, 77021, 77046, 77027, 77028, 77018, 77056, 77029, 77054, 77087, 77093, 77033, 77076, 77012, 77402, 77025 ,77401, 77051, 77016, 77057, 77013, 77081, 77092, 77547, 77091, 77055, 77024, 77017, 77078, 77061, 77045, 77096, 77037, 77063, 77088, 77080, 77506, 77048, 77039, 77035, 77047, 77501, 77508, 77587, 77036, 77074, 77050, 77502, 77075, 77042, 77038, 77060, 77085, 77015, 77071, 77040, 77043, 77503, 77504, 77031, 77053, 77086, 77032, 77067, 77396, 77072, 77489, 77049, 77034, 77041, 77079, 77315, 77411, 77588, 77089, 77077, 77099, 77205, 77536, 77044, 77477, 77584, 77530, 77581, 77497, 77505, 77064, 77066, 77209, 77545, 77082, 77014, 77073 ,77090, 77325, 77347, 77338, 77084, 77496, 77083, 77059, 77069, 77065, 77068, 77478, 77062, 77459, 77487, 77498, 77413, 77094, 77549, 77346, 77070, 77562, 77571, 77546, 77578, 77598, 77507, 77095, 77388, 77373, 77058, 77379, 77479, 77339, 77572, 77532, 77387, 77391, 77383, 77450, 77407, 77449, 77522, 77429, 77586, 77521, 77345, 77365, 77574, 77573, 77481, 77386, 77512 ,77410, 77583, 78228, 78207, 78250, 78247, 78249, 78251, 78240, 78227, 78223, 78201, 78216, 78230, 78210, 78237, 78213, 78258, 78221, 78211, 78217, 78218, 78242, 78232, 78233, 78229, 78209, 78245, 78212, 78214, 78254, 78259, 78222, 78224, 78238, 78220, 78225, 78248, 78202, 78023, 78204, 78244, 78203, 78219, 78226, 78231, 78234, 78256, 78239, 78260, 78109, 78208, 78255, 78257, 78205, 78215, 78252, 78266, 78056, 78073, 78112, 78154, 78206, 78235, 78236, 78241, 78243, 78253, 78261, 78262,78263, 78264, 78284, 78285, 78275, 78286, 78287, 78288, 78289, 78246, 78265, 78268, 78269, 78270, 78278, 78279, 78280, 78283, 78291, 78292, 78293, 78294, 78295, 78296, 78297, 78298, 78299, 78130, 78132, 78135, 78131, 8666, 78655, 78656, 78667, 78415, 78413, 78412, 78414, 78418, 78411, 78410, 78404, 78405, 78416, 78408, 78401, 78417, 78407, 78409, 78406, 78402, 78419, 78362, 78370, 78373, 78374, 78380, 78470, 78471, 78473, 78474, 78475, 78476, 78477, 78478, 78461, 78403, 78426, 78427, 78460, 78463, 78465, 78466, 78467, 78468, 78469, 78472, 78480