What are gutter guards?
Gutter guards are one of those improvements that provides a long term benefit and cuts down on gutter maintenance. They do the basic job of filtration; filtering and keeping away debris and leaf litter out of gutters. Once installed, the only thing you have to do- is clean these specific gutter guards once in a while rather than cleaning the whole gutter which can be a much more hazardous and dangerous physical activity. While most types of gutter guards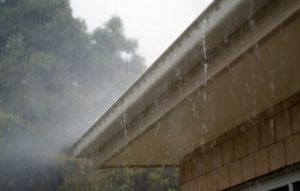 already make the leaf litter hit the ground, it is a good practice to clean the remaining off from time to time. Here are a few types of gutter guards available on the market today.
Types:
1. Nylon Gutter Guards: Preventing snow buildup in winter is one of the unique properties of this type of gutter guards other than their ability to be easily installed without being attached to the shingles.
2. "Bottle Brush" Gutter Guards: When water flows through these guards, the debris are blocked by the upward facing bristles.
3. Mesh Gutter Guards: Mesh guards are actually metal sheets having holes in them to let the water pass and block the debris. The finer the pores the better they can filter litters. These are attached to the "roof shingles" and cover the drain.
4. Foam Gutter Guards: A very simple type of guard made from plastic. They can easily fitted in and prevent the debris from flowing into the drain.
5. Reverse-curve Gutter Guards: These redirect the water flow downwards while automatically separating the leaves which falls to the ground.
Gutter guards have been in use for most outdoor establishments due to their simplicity and effectiveness. Once in place, they do a very good job of reducing the drainage maintenance to almost "nil". Also, maintaining them is very simple, added to the fact that they are extremely cost effective in the long run.
Metro Areas We Service:
Houston TX, San Antonio TX, Austin TX
77001, 77204, 77206, 77207, 77208, 77210, 77212, 77213, 77215, 77216, 77217, 77218, 77219, 77220, 77221, 77222, 77223, 77224, 77225, 77226, 77227, 77228, 77229, 77230, 77231, 77233, 77234, 77235, 77236, 77237, 77238, 77240, 77241, 77242, 77243, 77244, 77245, 77248, 77249, 77251, 77252, 77253, 77254, 77255, 77256, 77257, 77258, 77259, 77261, 77262, 77263, 77265, 77266, 77267, 77268, 77269, 77270, 77271, 77272, 77273, 77274, 77275, 77277, 77279, 77280, 77282, 77284, 77287, 77288, 77289, 77290, 77291, 77292, 77293, 77297, 77299, 77052, 77203, 77202, 77201, 77010, 77002, 77003, 77009, 77006, 77004, 77007, 77020, 77019, 77026, 77011, 77098, 77008, 77023, 77030, 77005 ,77022, 77021, 77046, 77027, 77028, 77018, 77056, 77029, 77054, 77087, 77093, 77033, 77076, 77012, 77402, 77025 ,77401, 77051, 77016, 77057, 77013, 77081, 77092, 77547, 77091, 77055, 77024, 77017, 77078, 77061, 77045, 77096, 77037, 77063, 77088, 77080, 77506, 77048, 77039, 77035, 77047, 77501, 77508, 77587, 77036, 77074, 77050, 77502, 77075, 77042, 77038, 77060, 77085, 77015, 77071, 77040, 77043, 77503, 77504, 77031, 77053, 77086, 77032, 77067, 77396, 77072, 77489, 77049, 77034, 77041, 77079, 77315, 77411, 77588, 77089, 77077, 77099, 77205, 77536, 77044, 77477, 77584, 77530, 77581, 77497, 77505, 77064, 77066, 77209, 77545, 77082, 77014, 77073 ,77090, 77325, 77347, 77338, 77084, 77496, 77083, 77059, 77069, 77065, 77068, 77478, 77062, 77459, 77487, 77498, 77413, 77094, 77549, 77346, 77070, 77562, 77571, 77546, 77578, 77598, 77507, 77095, 77388, 77373, 77058, 77379, 77479, 77339, 77572, 77532, 77387, 77391, 77383, 77450, 77407, 77449, 77522, 77429, 77586, 77521, 77345, 77365, 77574, 77573, 77481, 77386, 77512 ,77410, 77583, 78228, 78207, 78250, 78247, 78249, 78251, 78240, 78227, 78223, 78201, 78216, 78230, 78210, 78237, 78213, 78258, 78221, 78211, 78217, 78218, 78242, 78232, 78233, 78229, 78209, 78245, 78212, 78214, 78254, 78259, 78222, 78224, 78238, 78220, 78225, 78248, 78202, 78023, 78204, 78244, 78203, 78219, 78226, 78231, 78234, 78256, 78239, 78260, 78109, 78208, 78255, 78257, 78205, 78215, 78252, 78266, 78056, 78073, 78112, 78154, 78206, 78235, 78236, 78241, 78243, 78253, 78261, 78262,78263, 78264, 78284, 78285, 78275, 78286, 78287, 78288, 78289, 78246, 78265, 78268, 78269, 78270, 78278, 78279, 78280, 78283, 78291, 78292, 78293, 78294, 78295, 78296, 78297, 78298, 78299, 78130, 78132, 78135, 78131, 8666, 78655, 78656, 78667, 78415, 78413, 78412, 78414, 78418, 78411, 78410, 78404, 78405, 78416, 78408, 78401, 78417, 78407, 78409, 78406, 78402, 78419, 78362, 78370, 78373, 78374, 78380, 78470, 78471, 78473, 78474, 78475, 78476, 78477, 78478, 78461, 78403, 78426, 78427, 78460, 78463, 78465, 78466, 78467, 78468, 78469, 78472, 78480