It is recommended you carry out regular inspection of your gutters in order to avoid cases where you will have a gutter that will let you down. During the course of your inspection, here are a few things listed below you should look out for. Catching these issue early will save you the cost of expensive repairs resulting from prolonged rainwater damage.
Common reasons for needing gutter repair
Sagging Gutters
Sagging gutters and those which pull away from the building will expose your house to dangers of being rained on. With time,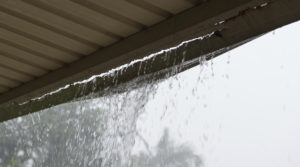 the gutters can deteriorate with, but you can fix them before they sag to an extent where they will interfere with the operation of gutters on your home.
Clogged Gutters
Debris from falling leaves and other solid particles on your roof can end up in the gutters which will clog them. Clogged gutters will restrict water flow. This will render your gutters less effective. You can prevent clogging of the gutters through installing mesh screens, porous foam and clip on grates. This is necessary to avoid entry of sold particles into the gutters which will clog the gutters.
Leaks
Over time, leaks can develop in your gutters. This is a common problem if your gutters are old and the seams are out of alignment, they have shifted due to strong winds or they have endured a beating from the occasional basketball missing its mark on its way to a roof mounted basketball hoop.
Improperly Pitched Gutters
The gutters should be pitched towards the downspouts. This is necessary for water to flow smoothly. They should have at least a quarter inch slope for every 10 feet.
Downspouts Draining Too Close to the Foundation
This can lead to making your foundation or basement become waterlogged. Hire a professional who will help you correct the problem.
We offer gutter repair services. You can get in touch with us and we will help you analyze the state of your gutters and correct the issue.
Metro Areas We Service:
Houston TX, San Antonio TX, Austin TX
77001, 77204, 77206, 77207, 77208, 77210, 77212, 77213, 77215, 77216, 77217, 77218, 77219, 77220, 77221, 77222, 77223, 77224, 77225, 77226, 77227, 77228, 77229, 77230, 77231, 77233, 77234, 77235, 77236, 77237, 77238, 77240, 77241, 77242, 77243, 77244, 77245, 77248, 77249, 77251, 77252, 77253, 77254, 77255, 77256, 77257, 77258, 77259, 77261, 77262, 77263, 77265, 77266, 77267, 77268, 77269, 77270, 77271, 77272, 77273, 77274, 77275, 77277, 77279, 77280, 77282, 77284, 77287, 77288, 77289, 77290, 77291, 77292, 77293, 77297, 77299, 77052, 77203, 77202, 77201, 77010, 77002, 77003, 77009, 77006, 77004, 77007, 77020, 77019, 77026, 77011, 77098, 77008, 77023, 77030, 77005 ,77022, 77021, 77046, 77027, 77028, 77018, 77056, 77029, 77054, 77087, 77093, 77033, 77076, 77012, 77402, 77025 ,77401, 77051, 77016, 77057, 77013, 77081, 77092, 77547, 77091, 77055, 77024, 77017, 77078, 77061, 77045, 77096, 77037, 77063, 77088, 77080, 77506, 77048, 77039, 77035, 77047, 77501, 77508, 77587, 77036, 77074, 77050, 77502, 77075, 77042, 77038, 77060, 77085, 77015, 77071, 77040, 77043, 77503, 77504, 77031, 77053, 77086, 77032, 77067, 77396, 77072, 77489, 77049, 77034, 77041, 77079, 77315, 77411, 77588, 77089, 77077, 77099, 77205, 77536, 77044, 77477, 77584, 77530, 77581, 77497, 77505, 77064, 77066, 77209, 77545, 77082, 77014, 77073 ,77090, 77325, 77347, 77338, 77084, 77496, 77083, 77059, 77069, 77065, 77068, 77478, 77062, 77459, 77487, 77498, 77413, 77094, 77549, 77346, 77070, 77562, 77571, 77546, 77578, 77598, 77507, 77095, 77388, 77373, 77058, 77379, 77479, 77339, 77572, 77532, 77387, 77391, 77383, 77450, 77407, 77449, 77522, 77429, 77586, 77521, 77345, 77365, 77574, 77573, 77481, 77386, 77512 ,77410, 77583, 78228, 78207, 78250, 78247, 78249, 78251, 78240, 78227, 78223, 78201, 78216, 78230, 78210, 78237, 78213, 78258, 78221, 78211, 78217, 78218, 78242, 78232, 78233, 78229, 78209, 78245, 78212, 78214, 78254, 78259, 78222, 78224, 78238, 78220, 78225, 78248, 78202, 78023, 78204, 78244, 78203, 78219, 78226, 78231, 78234, 78256, 78239, 78260, 78109, 78208, 78255, 78257, 78205, 78215, 78252, 78266, 78056, 78073, 78112, 78154, 78206, 78235, 78236, 78241, 78243, 78253, 78261, 78262,78263, 78264, 78284, 78285, 78275, 78286, 78287, 78288, 78289, 78246, 78265, 78268, 78269, 78270, 78278, 78279, 78280, 78283, 78291, 78292, 78293, 78294, 78295, 78296, 78297, 78298, 78299, 78130, 78132, 78135, 78131, 8666, 78655, 78656, 78667, 78415, 78413, 78412, 78414, 78418, 78411, 78410, 78404, 78405, 78416, 78408, 78401, 78417, 78407, 78409, 78406, 78402, 78419, 78362, 78370, 78373, 78374, 78380, 78470, 78471, 78473, 78474, 78475, 78476, 78477, 78478, 78461, 78403, 78426, 78427, 78460, 78463, 78465, 78466, 78467, 78468, 78469, 78472, 78480